The Technology
Spirex™ Heat Transfer Tubing Systems
The Showerex Energy Saver Heat Recovery system's unique design utilises the patented tube form known as Spirex tubing.
It is a double tube heat exchanger. The inner tube is a standard Watermark Certified copper drain tube for the waste water. As the shower waste clings to the inside, turbulating as it goes, the heat is transferred through the space between the inner and outer tubes. This means that the waste water and the potable incoming pre-heated cold water never touch.
Because of the lengths of the Showerex Energy Saver the time for the incoming cold water to start heating is extremely quick and so starts paying for itself almost instantly.
Being designed and manufactured in New Zealand we ensure all materials used are compliant to New Zealand and Australia's high standards.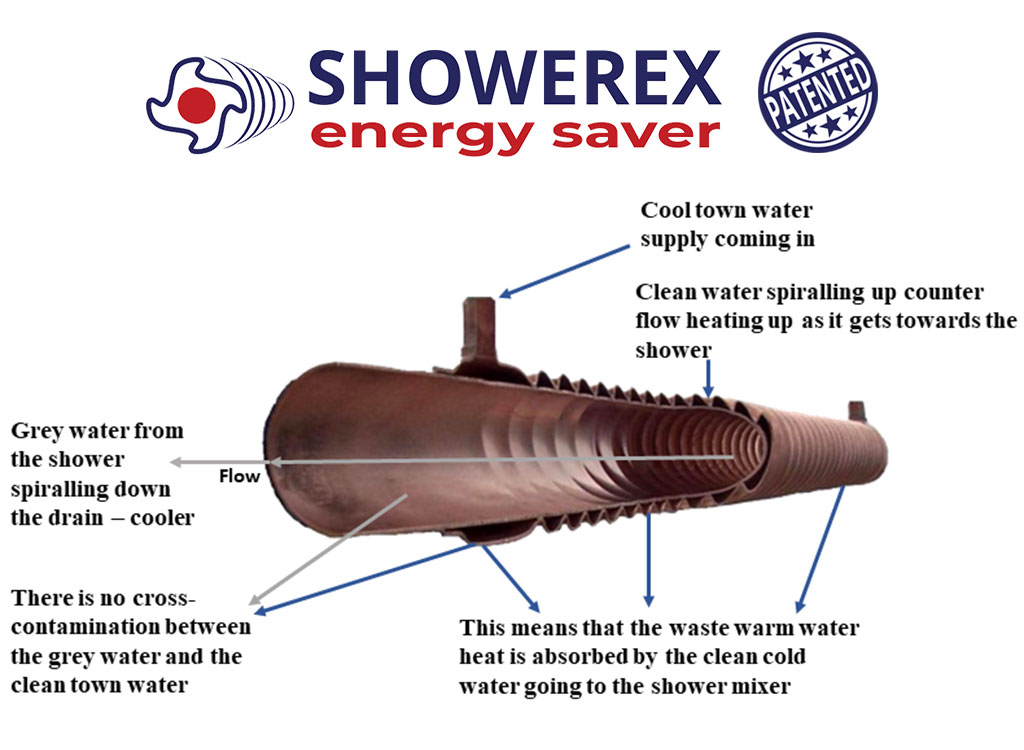 Patented Tube Form
Our helically corrugated heat transfer tubing system lies at the heart of every Showerex heat exchanger. This new technology is the result of ongoing development in heat exchanger manufacturing over 20 years.
Enhanced heat transfer tubes, otherwise known as enhanced surface tubes characterized by changes in shape to effect improvements in heat transfer performance compared with smooth surface heat exchanger tubes of circular cross section. In which heat transfer performance is improved by increasing the effective surface area available for the heat transfer duty and increased turbulence.
The heat transfer aspects of enhanced tube technology now appear to be sufficiently well understood for most practical requirements. The main problem with regard to manufacture of such tubing is to devise satisfactory methods for making technically acceptable tubes at commercially acceptable prices. These production problems have now been resolved with the patented Spirex tube manufacturing process.
Vaportec has developed extensive knowledge during the research and development period and this has provided substantial "in place" (before and after) data which provides the basis of our design and application criteria. The inherent advantages of Spirex tube began with the formation of the spirals. The method increases the surface area over a shorter lineal length, and combined with the induced turbulence, culminates in an enormous increase in overall heat transfer coefficient. Improvements over plain tubing include substantial increase in collapsing strength, reduction in size of heat exchangers and increased heat transfer coefficients.
Double Wall (Vented) Model
For applications that require added protection, Spirex heat transfer tubes can be double walled (vented).
Double Wall (Vented) Showerex models are available on request.
Customer Testimonial
I've been involved with heat transfer for most of my working life. (Over 30yrs) The last 15 years I've been acutely aware of the capabilities of the Vaportec organisation. I'm constantly impressed with their innovation and its application. I've also a major beneficiary or the R&D support they offer to potential customers. I've found the Vaportec products to be efficient & fit for purpose and would recommend them when suited for a particular application.